Council Planning Proposal for Botany Road Precinct
On Monday 26 July 2021, Council unanimously accepted the planning proposal for the Botany Road Precinct. The proposal now goes to the Department of Planning Infrastructure and Environment (DPIE) for their assessment and approval to go on exhibition. Public exhibition is expected late 2021 or in 2022. While there may be changes made during the DPIE assessment, the Council proposal and its supporting studies provide valuable background to the area and what emerged from Councils, urban design studies and consultation. This material will be the underlying basis for the proposal when it goes on public exhibition.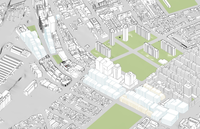 Potential outcome from Botany Road Precinct Proposal
Below we have provided links to the Council studies so people can easily access studies of interest.
Council will present on the proposal to a REDWatch on line public meeting at 6pm on Thursday 5th August 2021. For details email mail@redwatch.org.au
Report to Council
Planning Proposal - Botany Road Precinct
Appendices to the Planning Proposal
Draft Sydney Development Control Plan 2012 Amendment – Botany Road Precinct – Botany Road Precinct