Central to Eveleigh Corridor Indicative Development July 2014
In September 2014 the Sydney Morning Herald obtained a Flythrough of the proposed Central to Eveleigh development dated July 3 2014. The flythrough has been updated from the February 2014 version and new buildings from the Locomotive Workshops have been removed. The bulk of other key RWA recognised Heritage buildings remain missing in the July flythrough. The video currently only appears on the SMH website. This video deals with indicative development precinct by precint so below we have taken stills from the vido so people can look at the indicative development shown for their precint. UrbanGrowth has since indicated at a REDWatch meeting that some testing has been done on the indicative densities and that revisions are being made. UrbanGrowth expects to test possible densities with surrounding communities later in the process. Central to Eveleigh Indicative Development as of February 2014.
The following stills have been taken from the video shown on the SMH's website for the article Sydney renewal project at Eveleigh likely to be scaled back they show what was modeled for indicative development at various parts of the site.
Apart from the increase in densities above those proposed by the RWA, especially around Redfern Station, there are a number of other changes modeled including an entrance to North Eveligh off Ivy Street rather than Shepherd. While there is no highrise out of the Locomotive Workshops in this versioon (as there was in February 2014), a number of heritage buildings are missing including on North Eveleigh: The Clothing Store, The Paint Shop, The Cheif Mechanical Engineers Building, The Scientific Services and Telcomunications Equipment Centre. On South Eveleigh The New Locomotice Workshop and the Works Managers Office seems to have also disapeared. The Large Erecting Shop remains in place in the fly through.
On the Central end of the site heights in the fly through are high and appear to be between 50 - 90 storeys high (if you compare them to the UTS which is about 120 metres).
We have included both the current and indicative development shots so it is easy to compare what changes on a site. The July fly through broke the site up into defined precincts which we have also shown.
Use the View link to enlarge!
South Eveleigh - Area covered - July 2014 (below) Full-size image: 216.7 kB | View Download
South Eveleigh - Before Indicative Development - July 2014 (below) Full-size image: 286.6 kB | View Download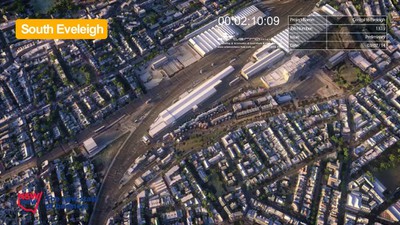 South Eveleigh - After Indicative Development - July 2014 (below) Full-size image: 290.3 kB | View Download
North Eveleigh - Area covered - July 2014 (below) Full-size image: 220.9 kB | View Download
North Eveleigh - Before Indicative Development - July 2014 (below) Full-size image: 248.4 kB | View Download
North Eveleigh - After Indicative Development - July 2014 (below) Full-size image: 278.2 kB | View Download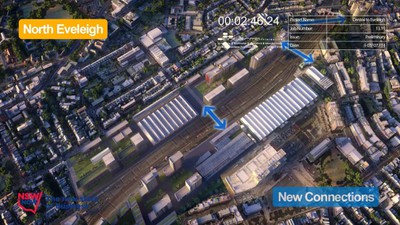 North Eveleigh - After Indicative Development - View 2 - July 2014 (below) Full-size image: 207.8 kB | View Download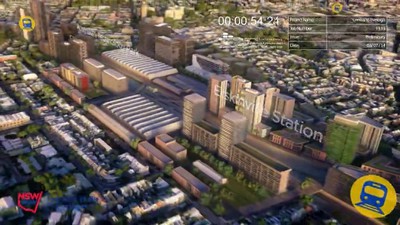 Australian Technology Park - Area covered - July 2014 (below) Full-size image: 210.5 kB | View Download
Australian Technology Park - Before Indicative Development - July 2014 (below) Full-size image: 278.5 kB | View Download
Australian Technology Park - After Indicative Development - July 2014 (below) Full-size image: 278.5 kB | View Download
Redfern Station - Area covered - July 2014 (below) Full-size image: 220.9 kB | View Download
Redfern Station - Before Indicative Development - July 2014 (below) Full-size image: 281.6 kB | View Download
Redfern Station - After Indicative Development - July 2014 (below) Full-size image: 284.7 kB | View Download
Central Station and Chippendale - Area covered - July 2014 (below) Full-size image: 202.2 kB | View Download
Central Station and Chippendale - Before Indicative Development - July 2014 (below) Full-size image: 262.8 kB | View Download
Central Station and Chippendale - After Indicative Development - July 2014 (below) Full-size image: 273.7 kB | View Download
Central Station and Chippendale - After Indicative Development - View 2 - July 2014 Full-size image: 181.2 kB | View Download
Belmore Park - Area covered - July 2014 (below) Full-size image: 194.0 kB | View Download
Belmore Park - Before Indicative Development - July 2014 (below) Full-size image: 243.2 kB | View Download
Belmore Park - After Indicative Development - July 2014 (below) Full-size image: 250.2 kB | View Download
Central to Eveleigh Indicative Development in City Context - July 2014 (below) Full-size image: 254.4 kB | View Download
The above stills have been taken by REDWatch from a Central to Eveleigh flythrough on the Sydney Morning Herald's website article Sydney renewal project at Eveleigh likely to be scaled back