Updated Consultation on Waterloo South Planning Proposal
Below are the consultation and capacity building details for the Waterloo South Planning Proposal. We will update this as more information comes to hand.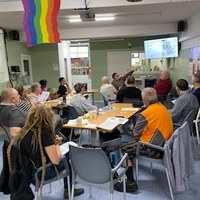 Waterloo South Capacity Building at Counterpoint
The Department of Planning and Environment (DPE) Websites for the Consultation
The Waterloo South Consultation information is currently spread across three Department of Planning websites. They are:
DPE Drop-in Sessions
DPE are holding drop-in sessions at Waterloo Neighbourhood Centre Shop5, 95 Wellington Street, Waterloo so people can learn more about the proposed plan for Waterloo south and share their feedback. Planners will be available at the sessions to answer questions about the plan. Drop-in sessions are being held:
Wednesday 16 March 10:00am-12:00pm
Thursday 24 March 10:00am-12:00pm
Thursday 31 March 10:00am-12:00pm
Saturday 2 April 11:00 to 1.00am
Tuesday 5 April 4:00pm-6:30pm
Friday 8 April 1:00-5:00pm for Autumn on the Green - Corner of Raglan Street and George Street
Thursday 21 April 10:00am-12:00pm
DPE Online information sessions
You can also join an online session to learn more about the proposed plan for Waterloo south, ask questions and share your feedback. You need to Register here for these session on:
Ask for someone from DPE to visit your group
If you have a group that meets around waterloo, DPE staff can attend your group to explain the proposal to the group. If you would like to arrange this email waterloo.project@dpie.nsw.gov.au
More information from DPE on Waterloo South acting as the Planning Proposal Authority:
visit planning.nsw.gov.au/waterloo-south
attend a drop in or an online session about the proposal
email waterloo.project@dpie.nsw.gov.au
call 13 14 50 select your preferred language and ask the interpreter to call us on 1300 420 596 (Mon-Fri 8:30am-5:00pm)
Independent assistance?
If you are looking for independent assistance you can contact Adam Antonelli at Counterpoint Community Services at a.antonelli@counterpointcs.org.au or Geoff Turnbull at REDWatch on mail@redwatch.org.au.
Counterpoint Capacity Building Sessions and Assistance
Counterpoint with supportive academics and REDWatch are organising support for tenants at the Factory Community Centre at 67 Raglan St Waterloo. As part of this the following sessions have been organised:
6 years on - How did we get here? Wednesday, March 9, 10am - 12pm - will be online at Counterpoint soon! - Are you confused with what's happened since the redevelopment was announced in 2015?We don't blame you. Come along to this workshop to understand what's happened, and what it means for the exhibition.
Unpacking the planning proposal & Issues Roundtable Thursday, March 17, 10am - 12pm - Join independent experts as we explore the Waterloo South planning proposal and what itmeans for the future of Waterloo
How is feedback considered when assessing public submissions? Tuesday, April 5, 2pm - 4pm - Learn how submissions to development proposals have effected change elsewhere, and gettips for how you can write an effective submission.
Support writing your submission to the planning proposal - An effective submission to the planning proposal offers the best chance of influencing the redevelopment plans. UNSW students are available to help you write and submit your thoughts on the planning proposal. Please contact Adam Antonelli to pair up with a student.
Other helpful websites for the consultation
Interesting Media related to Waterloo South
REDWatch will add more to this web page as more information becomes available.